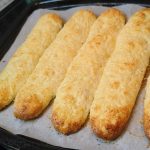 *Yeasted* Parmesan Garlic Breadsticks (Next Level Butter Batter)
Ingredients
7

g

honey **can be replaced with 1 tsp inulin**

1

cup

(236ml) warm of water

100-110 degrees fahrenheit

2 ¼

(9g) active dry yeast

100g

(1 1/4 cups) egg white protein powder

1/2

tsp

cream of tartar

1/2

tsp

redmond real salt

1

tbsp

(10g) gelatin powder

2

tbsp

(18g) allulose

2

tbsp

(12g) acacia fiber powder

2

tbsp

(16g) arrowroot powder
To add after whipping:
1

stick (120g) salted butter,

frozen and grated
Toppings:
garlic salt

parmesan cheese, shredded or grated
Instructions
Grate or shred the stick of frozen butter and transfer it back to the freezer until time to add it to the batter.

Prepare a cookie sheet by lining with parchment paper and set aside.

Whisk together the honey and warm water in a small bowl and sprinkle the yeast over the top.

Set the yeast mixture aside in a warm place (100-105 degrees, ideally) to activate while preparing the other ingredients.

Add the egg white powder, cream of tartar, salt, gelatin, allulose and acacia fiber powder to the bowl of your stand mixer and whisk together.

Add the arrowroot powder the yeast and water mixture and whisk together.

Add the yeast mixture to the dry ingredients and whisk together lightly until moistened.

Start the mixer with the whisk attachment on low speed. Gradually increase the speed until full. Mix on full speed for 5-15 minutes until you get a very thick, glossy, marshmallow cream-like batter.

Reduce speed to low and add in the frozen butter shreds.

Mix on low just until combined.

Using a piping bag, pipe out breadstick shapes onto your prepared pan.

Dust with garlic salt and sprinkle with parmesan cheese.

Allow the breadsticks to proof in a warm spot (ideally 100-105 degrees) for 1 hour.

Meanwhile preheat the oven to 325 degrees.

After the 1 hour proofing time, bake the breadsticks in the preheated oven for 12-18 minutes until the bottoms are browned to your liking

Remove from the oven and allow to cool on the pan for about 5 minutes.

These are best served warm. Enjoy!