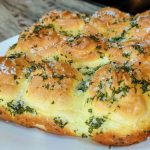 Herbed Dinner Rolls
These rolls would make a perfect addition to any low carb holiday dinner table. Each roll only has 1.5g of carbs and are high in protein!
Ingredients
1

tsp

honey

(optional)

3/4

cup

warm water

1/2

tsp

active dry yeast

(optional)

60

grams

egg white powder

(3/4 cup)

1

tbsp

arrowroot starch/flour/powder

(optional(

1

tbsp

allulose

1/4

tsp

cream of tartar

1/4

tsp

redmond real salt

1

tsp

egg yolk powder

(note: fresh yolks don't give the same effect)

1/4

cup

ghee or butter

1

tbsp

fresh rosemary,

finely chopped

1

tbsp

fresh thyme leaves,

finely chopped

flake salt to taste
Instructions
Preheat the oven to 325 degrees. Whisk together the honey and warm water in the bowl of your stand mixer. Sprinkle the yeast over the water mixture. Allow to stand for 3-5 minutes to let the yeast bloom. Add in the egg white powder, arrowroot, allulose, cream of tartar and salt. Start the mixer with the whisk attachment on low speed. Gradually increase the speed until full. Mix on full speed for 5 minutes. Reduce speed to low, add in the egg yolk powder and mix just until combined and no lumps are left. Using an ice cream scooper portion the batter into 9 rolls and place on a greased and parchment paper lined baking dish. Bake for 20 minutes. In a microwave safe bowl heat the ghee or butter until melted. Mix in the rosemary and thyme. Remove the rolls from the oven and pour the butter mixture evenly over the top. Return the rolls to the oven for 10 more minutes. Allow to cool in the pan for 5-10 minutes. These rolls are best served warm. Enjoy and Happy Thanksgiving!
Recipe Notes
Recipe makes 9 rolls
Serving = 1 roll
Calories: 84
Macros: Carbs 1.5g, Fat 5.8g, Protein 5.5g
This recipe is loosely based on Maria Emmerich's Easiest Protein Sparing Bread recipe. Find her original recipe here: https://mariamindbodyhealth.com/the-easiest-protein-sparing-bread
Thank you to Philipp Briese for the comment and the idea of adding arrowroot!