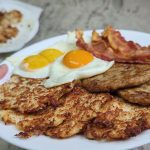 Crispy Protein Hashbrowns (keto)
Ingredients
12oz

fresh daikon radish, shredded

1oz

pork rind crumbs

1 1/2

tsp

unflavored gelatin powder

20g

(1/4 cup) egg white powder

spices as desired if using an unspiced pork rind crumb

3-6

tbsp

bacon grease of frying fat of your choice
Instructions
In a medium bowl, toss daikon radish shreds with the pork rind crumbs, gelatin, egg white powder and spices, if using.

Heat 3 tablespoons of the fat of choice in a large skillet or flat top grill on medium- medium high heat.

Working in batches, add the radish mixture to the pan to make small thin cakes and fry 4-5 minutes per side or until browned as desired.

Continue until all of your radish mixture is used up, adding more fat to the pan if needed.

Remove from the pan to a paper towel lined plate and serve right away.
Recipe Notes
Makes 3 servings. Each serving contains ~5g total carbs and 12g protein (fat per serving depends on how much is absorbed in the frying process)
Substitutions: 
Pork rind crumbs can be replaced by chicken flour.
Egg white powder can be replaced by whole egg powder.