Kitchen Equipment I used in this video (affiliate links – thanks!):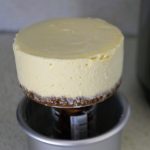 Mini Blankslate Cheesecake (Instant Pot)
Deliciously decadent plain cheesecake ready to be dressed up with any number of delicious toppings!
Ingredients
2

tsp

butter,

melted

1/3

cup

graham cracker crumbs

(gluten free for a GF cheesecake)

8

oz

plain cream cheese,

room temperature

3

tbsp

plain greek yogurt

1/4

cup

granulated sugar

1

tsp

pure vanilla extract

pinch

of salt

2

large egg yolks
Instructions
In a small bowl mix together butter and graham cracker crumbs crumbs.

Line a 4" push-bottom cake pan with a parchment paper round and spray the sides with a non-stick spray.

Spread crust mixture in the bottom of the pan and press down firmly and evenly.

Place pan into the freezer for 10 minutes.

While the crust is chilling, mix the cream cheese with a spoon until soft and smooth. This will be easy to do if the cream cheese is at room temperature. If the cream cheese is too stiff to stir easily, allow it to sit at room temperature for a bit longer.

Add the greek yogurt, sugar, salt, and vanilla extract and mix until smooth.

Add the egg yolks and gently mix just until combined. Do not over mix!

Spread the cheesecake filling over the chilled crust and tap the pan on the counter several times to release any air bubbles. Cover the pan tightly with foil.

Place the steam rack/trivet in the inner pot and add 1 cup of water (2 cups if using a 6qt or 8qt Instant Pot). Place the pan on the trivet.

Lock the lid and set the steam release valve to sealing.

Select Pressure Cook (Low) and set the cook time for 30 minutes.

Once the cook time is complete, allow the pressure to release naturally for 5 minutes, then quick release any remaining pressure.

Allow the cheesecake to cool on a wire rack, uncovered, for 30 minutes.

Cover with the foil again and transfer the cheesecake to the refrigerator to chill for at least 3 hours before serving.

Top as desired and enjoy!
Recipe Notes
There are 2 very important tips for crafting a perfect cheesecake:
First, bring your cream cheese up to room temperature before you start. This will make the batter very easy to mix and will keep your cheesecake lump-free.
Second, be sure not to over-mix the batter after adding in the eggs. Just barely stir in the eggs until they are combined. Over-mixing will cause the eggs to puff up when the cheesecake cooks and will result in an egg, messy cheesecake.