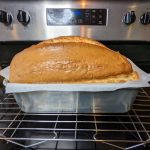 My Best Egg White Bread
Ingredients
1 1/4

cups

(295ml) of water

1

tsp

unflavored gelatin

100g

(1 1/4 cups) egg white protein powder

1 1/2

tsp

cream of tartar

1/2

tsp

Redmond real salt

1/4

cup

(36g) allulose

2

tbsp

(16g) arrowroot powder,

optional
To add after whipping:
1/4

cup

(24g) butter powder

2

tbsp

whole egg powder
Instructions
Preheat the oven to 325 degrees.

Add the water to the bowl of your stand mixer and sprinkle the gelatin over the top.

Add in the egg white powder, cream of tartar, salt. allulose and arrowroot, if using.

Start the mixer with the whisk attachment on low speed. Gradually increase the speed until full. Mix on full speed for 3-5 minutes or until stiff peaks form.

In a small bowl mix together the butter powder and the whole egg powder.

Reduce speed to low and stir in the butter powder mixture just until combined and no lumps are left.

Spread the batter into a large parchment paper lined loaf pan.

Bake in the preheated oven for 40 minutes (If doing 2 mini loaves cook for 35 minutes).

Remove from the loaf the oven and allow to cool in the pan on a wire rack for about 10 minutes.

Remove from the pan and parchment paper and allow to rest on the wire rack until completely cool to the touch.

Slice and enjoy.
Recipe Notes
Substitution options: 
1 tsp of gelatin can be replaced with 1/4 tsp of xanthan gum
Allulose can be reduced. If you eliminate it all together try increasing the oven temp to 375-400 degrees in order to get some browning on your loaf.  Check for doneness before the whole 40 minutes are up.
Arrowroot can be reduced to 1 tbsp or eliminated for a lower carb count.
Butter powder can be substituted with mct oil powder for a dairy-free version.
2 tbsp of whole egg powder can be substituted with 2 tsp of yolk powder
Calories & Macros 
Recipe makes 16 thin slices
Per Slice:
43 Calories 
1.3g Carbs (if you omit the arrowroot the carb count comes down to 0.4g)
5.6g Protein
1.2g Fat
Note: I do not count allulose in the carb count since it does not get absorbed by the body like regular carbs do.
Kudos to @Maria Emmerich, the godmother of the egg white bread craze! https://mariamindbodyhealth.com/the-easiest-protein-sparing-bread ***To avoid confusion please note that I do not follow Maria's version of the keto diet and this recipe may contain ingredients that are not on her approved foods list.***