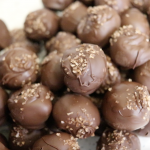 Salted Caramel Truffles
Ingredients
11.5oz

bag

milk chocolate chips (about 2 cups)

6

oz

semi-sweet chocolate chips (about 1 cup)

3/4

cup

heavy whipping cream

10

kraft caramels (about 3oz)

1

tbsp

caramel extact

(optional but highly recommended!)

18-24

oz

semi-sweet chocolate chips (about 3-4 cups; for dipping)

course or flaked salt (for sprinkling)
Instructions
Add the milk chocolate and 1 cup of semi-sweet chocolate chips to a large bowl.

In a small saucepan heat the heavy whipping cream up to a gentle boil over medium heat.

Pour all but 2 tablespoons of the hot cream over the chocolate chips and allow to sit for 5 minutes while the chocolate melts.

Add the caramels to the remaining 2 tablespoons of cream in the saucepan and gently melt over medium low heat until melted and smooth, stirring often.

Stir the chocolate chip and cream mixture until the cream is incorporated and the chocolate is melted and smooth. If lumps of unmelted chocolate remain, heat the mixture in the microwave for 15 second intervals, stirring after each until smooth.

Gently stir in the caramel extract until fully incorporated.

Drizzle the caramel mixture from the saucepan over the chocolate mixture. Gently fold the caramel into the chocolate but do not fully mix. The caramel should just be swirled with the chocolate to form caramel ribbons that will go through the truffles.

Cover the bowl and allow to chill in the refrigerator until slightly hardened. The time this takes can vary, 1 to 1 ½ hours, approximately. When the texture is right you should be able to scoop portions of the mixture out without them sinking down or puddling. They should hold their shape slightly but not be so hard that they are hard to scoop from the bowl.

Drop the chocolate mixture by rounded teaspoonfuls, on a parchment paper lined cookie sheet. The mixture should hold its shape. If the scoops of chocolate sink after placing them onto the cookie sheet, put the bowl back in the refrigerator for a bit longer.

Once the mixture has been portioned out, place the cookie sheet in the refrigerator for about 15 minutes or until the chocolate is easy to handle.

With your hands, roll each lump of chocolate into a ball and place back on the cookie sheet.

Transfer the cookie sheet to the freezer and allow the truffles to fully harden, 30-45 minutes.

In a medium bowl melt the remaining semi-sweet chocolate chips in the microwave for 30 second intervals, stirring after each, until the chocolate is melted and smooth.

One at a time drop the truffles into the chocolate and using a fork, stir to coat and remove the truffle from the bowl. Tap the fork handle on the side of the bowl a few times to remove the excess chocolate. Carefully place the truffle onto a parchment paper lined cookie sheet. Sprinkle with a pinch of salt while the coating is still wet (it dries fast!).

Once the cookie sheet is filled, transfer the truffles to the refrigerator once more and allow the coating to fully harden, about 30 minutes.

Transfer the truffles to an airtight container and store in the refrigerator or freezer. Enjoy!