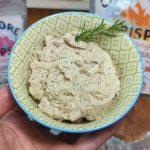 Whipped Marrow
Ingredients
About 2

lbs

raw marrow bones

1/4

tsp

salt

Spices of choice

2

ice cubes

or amount needed to achieve desired texture
Instructions
Preheat oven to 425 degrees.

Place bones (frozen or thawed) in a single layer in a roasting pan.

Roast for 25-30 minutes in the preheated oven. Thawed bones will cook a bit faster than frozen.

Remove the pan from the oven and allow to rest until the bones are cool enough to handle.

Scoop the marrow out into a tall mason jar.

Scrap the remaining fat from the pan into the jar

Add in salt and desired spices.

Using an immersion blender blend the mixture until smooth.

Add in ice cubes one at a time, blending after each one until the marrow begins to lighten an whips up like frosting (this should only take 1 or 2 ice cubes)

Store marrow in an airtight container in the refrigerator.

To get the marrow back to a creamy consistency, allow it to sit at room temperature for a bit to soften up.