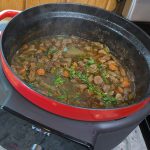 Beef Stew with Mushrooms (keto)
Ingredients
2

tbsp

bacon grease or cooking fat of your choice

3lbs

beef, top sirloin, cut into 1/2" cubes

1/2

medium onion, diced

3

stalks

celery, diced

1

medium sized carrot, peeled and diced

8oz

sliced mushrooms

2

tbsp

fresh thyme leaves (or 2 tsp dried)

3

cloves

garlic, crushed or minced

2

tsp

smoked salt or salt of your choice

1

tsp

black pepper

1

bay leaf

1

tsp

granulated onion

1/2

tsp

Tony Chachere's Creole seasoning

4

cups

beef broth

3

tbsp

beef gelatin (for thickening, optional)

2

tbsp

red wine vinegar or apple cider vinegar

3

tbsp

fresh parsley, finely chopped
Instructions
Heat your dutch oven on the stove over medium high heat or choose Sear/Saute on your Precision Dutch Oven.

Once preheated, add in the bacon grease.

Working in batches, brown the beef and remove each batch from the pan with a slotted spoon.

In the remaining drippings, saute the onion, celery and carrot until the onion becomes translucent, about 3 minutes.

While the vegetables are sauteing, whisk together the broth, gelatin and vinegar in a separate bowl and set aside.

Add the mushrooms to the pot and saute for another 2 minutes.

Add in the thyme, garlic, salt, pepper, bay leaf, granulated onion and creole season and saute until the garlic and herbs become fragrant, about 1 minute.

Add the broth mixture to the pot and stir together.

Bring the soup up to a boil and then turn the heat down to medium low or set the temp to 315 degrees.

Allow to simmer lightly, uncovered, for 1 and 1/2 hours or until the meat is cooked to your desired tenderness. Check the stew often and add more water or broth if needed.

When the meat is done to your liking, remove from the heat, stir in the fresh parsley, serve and enjoy!
Recipe Notes
Slow Cooker instructions: After all of the ingredients are in the slow cooker, cook on high for 4-6 hours or on low for 6-8 hours.
Instant Pot instructions: After all of the ingredients are in the Instant Pot, lock the lid and select Pressure Cook (high). Set the time for 30 minutes. When cooktime is finished allow the pressure to release naturally for 10 minutes before quickly releasing the rest of the pressure and opening the lid. 
This recipe makes eight 8oz servings
Calories and Macros:
1 Serving = 409 calories
4.8g total carbs
1.3g fiber
42.7g protein
23.7g fat