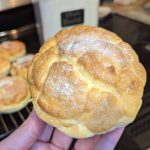 Butter Bun 2.0
Ingredients
1

tsp

honey (5g) **can be replaced with 1 tsp inulin**

1 1/4

cups

warm of water

(295ml)

1

tsp

active dry yeast

100

g

egg white protein powder

(1 1/4 cups)

1/2

tsp

cream of tartar

1/2

tsp

redmond real salt

1

tbsp

gelatin powder

(10g)

2

tbsp

allulose

(18g)

1

tbsp

arrowroot powder

(8g)
To add after whipping:
1

tsp

butter flavor/extract

1/4

cup

butter powder

(24g)

3

tbsp

acacia fiber powder

(18g)
To add in the middle of the baking time:
3

tbsp

melted butter

flake salt
Instructions
Preheat the oven to 325 degrees. Prepare a silicone hamburger bun pan by spraying with cooking spray. Whisk together the honey and warm water in the bowl of your stand mixer. Sprinkle the yeast over the water mixture. Allow to stand for 3-5 minutes to allow the yeast to bloom. Add in the egg white powder, cream of tartar, salt, gelatin, allulose and arrowroot. Start the mixer with the whisk attachment on low speed. Gradually increase the speed until full. Mix on full speed for 5 minutes. Reduce speed to low. Add in the butter extract, butter powder and acacia fiber powder and mix on low just until combined and no lumps are left. Quickly divide batter into the 8 wells of the silicone bun pan and bake for 15 minutes. Remove the buns from the oven, brush each bun with melted butter and sprinkle as desired with flake salt. Return the buns to the oven and bake for 10 more minutes. Allow the buns to cool in the pan for about 5 minutes. Optionally, dust with additional butter powder. These buns are best served warm. Enjoy!
Recipe Notes
Per bun:
Calories: 131
Total Carbs: 4.3g
Fiber: 2.2g
Fat: 6.6g
Protein: 11.9g
**Note: I don't include the allulose carbs in the carb count because they are not absorbed by the body