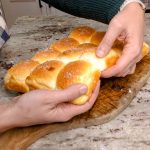 Butter-Top Dinner Rolls
Ingredients
295ml (1 1/4 cup)

water

161g

egg white bread dry mix
To add after whipping:
24g

(1/4 cup) butter powder

2

tsp

egg yolk powder
Toppings:
1/4

cup

butter, melted

flake salt
Instructions
Preheat oven to 325 degrees and prepare a 9×13 inch cake pan by lining with parchement paper.

Add the water and egg white bread dry mix to the bowl of your stand mixer.

In a small bowl mix together the butter powder and the egg yolk powder and set aside.

Start the mixer with the whisk attachment on low speed. Gradually increase the speed until full. Mix on full speed for 5-10 minutes or until you get a texture similar to shaving cream.

Reduce speed to low and stir in the butter powder mixture just until combined and no lumps are left.

Using an ice cream scoop, portion the batter onto the pan, making 12 rolls.

Bake at 350 for 10 minutes.

Remove the rolls from the oven, brush on the melted butter with a basting brush and sprinkle with flake salt.

Return the rolls to the oven and bake for 15-20 more minutes until lightly golden.

Remove the rolls from the oven and allow to cool for about 10 minutes before serving. Enjoy!
Recipe Notes
Find the recipe for the Egg White Bread Dry Mix here: http://indigonili.com/egg-white-bread-mix/ 
If you don't want to mix up a whole batch of egg white bread dry mix you can replace the 161g of mix in this recipe with:
100g egg white powder
1/2 tsp cream of tartar
1/2 tsp salt
1/4 cup (36g) allulose 
18g arrowroot powder (optional)