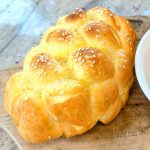 Challah Bread (keto)
Ingredients
1

tsp

honey, optional

(5g) **can be replaced with 1 tsp inulin

1 1/4

cups

warm of water

(295ml)

1

tsp

active dry yeast,

optional

100g

egg white protein powder

(1 1/4 cups)

1/2

tsp

cream of tartar

1/2

tsp

redmond real salt

1

tbsp

unflavored gelatin powder (10g)

or 1/4 tsp xanthan gum

2

tbsp

honey flavored allulose syrup

(39g)

1

tbsp

arrowroot powder, optional

(8g)

1/16

tsp

pure stevia powder
To add after whipping:
6

tbsp

Keto Olive Oil Super Powder

(36g) **see note for substitution options**
To add in the middle of the baking time:
egg wash (1 part beaten whole egg + 1 part water)

sesame seeds
Instructions
Prepare 2 mini silicone loaf pans (check the notes for the challah mold I used) by spraying with cooking spray. Preheat the oven to 325 degrees. Whisk together the honey and warm water in the bowl of your stand mixer. Sprinkle the yeast over the water mixture. Allow to stand for 3-5 minutes to allow the yeast to bloom. Add in the egg white powder, cream of tartar, salt, gelatin, allulose syrup, arrowroot and stevia . Start the mixer with the whisk attachment on low speed. Gradually increase the speed until full. Mix on full speed for 5 minutes. Reduce speed to low. Add in the keto olive oil super powder and mix on low just until combined. Divide the batter into your pans and bake in the preheated oven for 25 minutes. Remove the loaves from the oven and allow to cool for about 3 minutes. Carefully invert and remove the loaves from the pans onto a cookie sheet lined with parchment paper or a silicone baking mat. Brush the loaves with egg wash and sprinkle the tops with sesame seeds. Return the loaves to the oven and bake for 10 more minutes or until the loaves are cooked through and the tops are nicely browned. Allow to cool for about 15 minutes before slicing. Enjoy!
Recipe Notes
Substitutions for Keto Super Powder in this recipe:
3 tbsp (18g) butter powder + 3 tbsp (18g) acacia fiber powder
OR 
1 tbsp (6g) coconut milk powder + 3 tbsp (18g) acacia fiber powder
OR 
3 tbsp (18g) mct oil powder + 3 tbsp (18g) acacia fiber powder
Find the Challah bread mold I used on Amazon HERE 
Makes 2 mini loaves. Here are the calories and macros if you cut each loaf into 8 slices:
Per Slice:
45 calories
1.9g total carbs
1.1g fiber
0.8g net carbs
1.4g fat
5.8g protein
**Note: I do not count the carbs from allulose since they are not absorbed by the body
Note: Some links in this post are affiliate links. Using these links help support my channel without any extra cost to you! Thank you!