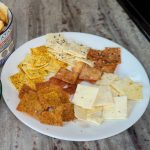 Egg White Crackers
Ingredients
2

recipes of DIY Egglife Wraps or Carnivore Crêpes (find the recipe links in the notes below)

cooking spray of your choice (I use avocado oil spray)

seasonings of your choice
Instructions
Preheat the oven to 250 degrees.

Cut the wraps/crêpes into desired cracker shapes and place in a single layer on a cookie sheet lined with a silicone baking mat or parchment paper if desired.

Spray lightly with cooking spray and sprinkle with desired seasonings.

Bake in the preheated oven until fully crisp. This usually takes 45 minutes to an hour. Check the crackers often and remove the done ones from the pan. Continue baking the rest until they are all fully crisp.

Store in an airtight container at room temperature for up to 4 days.
Recipe Notes
Find my 2 Ingredient Egg White Crêpe recipe here: http://indigonili.com/egg-white-crepes-keto-carnivore
Find my DIY Egglife Wrap recipe here: http://indigonili.com/diy-egglife-wraps-keto-carnivore
Seasonings can be added to the batter of the wraps/crêpes before cooking or sprinkled on the crackers before baking.
Seasoning ideas:
Salt and Black Pepper
Pork King Good Salt and Vinegar Seasoning
Pork King Good Ranch Seasoning
Pork King Good Bacon Seasoning
Redmond's Season Salt
Everything But the Bagel seasoning
Flake Salt
Caraway Seeds
Cinnamon & Sweetener Mixture
The options are endless!!!
Calories and Macros 
Recipe makes 4 servings
Calories per serving: 54
Total Carbs 0.4g
Fiber 0g
Protein 10g
Fat 1.2g