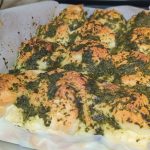 Pesto Pull-Apart Rolls (egg white bread, keto)
Ingredients
1 1/4

cup

of water

(295ml)
Use 140g of Bun Base Mix or use these 6 ingredients measured individually:
100

g

egg white protein powder

(1 1/4 cups)

1/2

tsp

cream of tartar

1/2

tsp

redmond real salt

1

tbsp

unflavored gelatin powder

(10g)

2

tbsp

allulose

(18g)

1

tbsp

arrowroot powder

(8g, optional)
To add after whipping
6

tbsp

Keto Olive Oil Super Powder

(36g) **See the notes for substitution options
To add in the middle of the cooking time
1/2

cup

pesto

1

tbsp

olive oil
Instructions
Preheat oven to 325 degrees and prepare a 9×13 baking pan by lining with parchment paper.

To the bowl of your stand mixer add the water and bun base mix (or individually measure out the egg white powder, cream of tartar, salt, gelatin, allulose and arrowroot).

Start the mixer with the whisk attachment on low speed. Gradually increase the speed until full. Mix on full speed for 5 minutes or until you get a consistency similar to shaving cream.

Reduce speed to low and add in the olive oil super powder. Mix on low speed just until combined. Do not whip the batter at this point.

Using an ice cream scooper, divide the batter into 12 rolls in your prepared pan. Spray the scooper with cooking spray between each roll. They should be touching.

Bake in the preheated oven for 25 minutes.

In a small bowl, mix together the pesto and olive oil.

Remove the rolls from the oven. Drizzle and brush the pesto mixture over the top of the rolls.

Return the pan to the oven and cook for 10 more minutes.

Remove from the oven and allow to cool for about 10 minutes before serving. These rolls are best served warm. Enjoy!
Recipe Notes
Substitutions for Keto Super Powder in this recipe:
3 tbsp (18g) butter powder + 3 tbsp (18g) acacia fiber powder
OR
1 tbsp (6g) coconut milk powder + 3 tbsp (18g) acacia fiber powder
OR
3 tbsp (18g) mct oil powder + 3 tbsp (18g) acacia fiber powder
Calories & Macros per roll:
Calories: 107
Total Carbs: 2.3g
Fiber: 1.4g
Net Carbs .9g
Fat: 7.1g
Protein: 8g