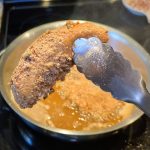 Protein Breaded Chicken Strips (Keto, Ketovore, Carnivore, Low Carb)
Ingredients
1lb

boneless, skinless chicken tenders
Breading Ingredients:
2oz

Pork rind crumbs

(about 3/4 cup)

1

tbsp

unflavored gelatin

(10g)

1/2

cup

egg white powder

(40g)

seasoning of your choice

(I used 2 tsp of Pork King Good Ranch Seasoning)
Egg Dip Ingredients:
1

large egg

1 1/2

tbsp

heavy cream

(omit or replace with coconut milk for a dairy free version)
For Frying:
bacon grease or frying fat of your choice
Instructions
In a medium bowl combine the pork rind crumbs, gelatin powder, egg white powder and seasonings.

In a separate bowl whisk together the egg and heavy cream.

One at a time, dip each chicken tenderloin into the wet mixture first and then toss in the breading mixture. Continue until all the chicken tenders are breaded.

In a large frying pan heat about 1 cup of bacon grease or other frying fat of your choice on medium heat until it just begins to smoke.

Cook breaded chicken tenders for 2-3 minutes per side in the hot oil. Cook time depends on the thickness of the chicken so always check for doneness.

Remove from the pan to a paper towel lined plate or wire rack. Allow to cool slightly before enjoying with your favorite dipping sauce!
Recipe Notes
Airfryer instructions: Place breaded chicken tenders in the airfryer basket and spray lightly with cooking spray or drizzle with a bit of melted bacon grease or ghee. Cook at 400 degrees for about 10 minutes, flipping halfway through. Always check for doneness and adjust cook time as needed. 
This recipe would work well in a deep fryer. Refer to your deep fryer's instructions.